Yorktown Auto Body Spotlight on Pablo Guzman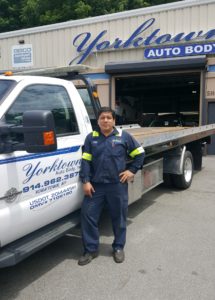 Pablo is our out-and-about guy. You'll rarely see him in the shop because he is almost always out on the road behind the wheel of his tow truck. As our tow manager, Pablo is the head of our fleet of six trucks, including three flatbeds and three riggers.
Pablo dispatches the trucks, assigning jobs to different drivers as the calls come in. He also controls the finance side of the tow department by managing the payments made by clients and insurance companies. There are a lot of duties that fall under his role, but one he considers a perk is working with the Yorktown Police Department, which is a contracted client of ours. "One of my favorite parts of the job is working with the police," he says. "I've been working with them for years and we have a good relationship."
We've been extremely fortunate to have Pablo on our staff with us for the nine years we've been in business at this location. He's a loyal worker and has a wealth of experience. Before we opened our business, he worked for the previous shop here – totaling 17 years of towing in the city of Yorktown.
Pablo not only works in Yorktown; he also lives here with his 9-year-old daughter and 5-year-old son. He works Monday through Friday and rotates weekends with his fellow drivers. When he's not hard at work, he enjoys simply spending time with his family, going out to dinner together and playing with his kids.
Thank you, Pablo for your many years of work at Yorktown!