Yorktown Auto Body is built on integrity, precision and knowledge. As a family owned shop, we have a proud tradition of quality work. Because of our high standards, we demand a lot from our employees. To show our appreciation for them, we're running a blog series called "Employee Spotlight."
This month, we shine the light on Skyler Levy.
Up until a few days ago, Skyler was working in our Quality Control department. He was inspecting the cars and making sure everything was good to go before turning them over to our customers. Thankfully, Skyler is a team player. When we needed him to move over to another department to quickly fill a position, he stepped up.
Skyler is now towing cars – which can be intimidating at first – but he's already doing a great job and feeling comfortable out there. "Sometimes you're dealing with cars that don't want to cooperate," he says. "A wheel could be falling off and it can be tough to get it on the truck." He says he likes the change and is enjoying being outdoors while he works. He's also happy to be learning new backroads and getting to know the area better.
Skyler has worked at Yorktown for almost 3 years. There's no doubt this 22-year-old is a hard worker. He started here washing cars and has worked his way up to jobs with higher responsibility. Skyler goes to night school at WCC, where he's studying mechanical engineering and he also works a second job as a waiter for a catering hall!
We're lucky to have Skyler working for us!
Employee Spotlight focuses on the people who make a difference at our QB Collision Center and Yorktown Auto Body shop. Check back over the next few weeks to see if your favorite employee is featured, or Contact Us to recommend someone who has impressed you.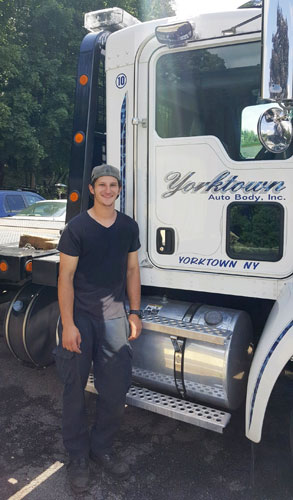 Here is a list of other passed Spotlight Members: