Getting into a collision can be stressful. In the moment, anxiety or adrenaline can take over and cause you to forget some important steps that should be taken immediately after an accident. At QB Collision/Yorktown Auto Body, we know a thing or two about the aftermath of an accident.  Print and keep this simple guide in your car to help you remember what to do if you find yourself in an unfortunate situation.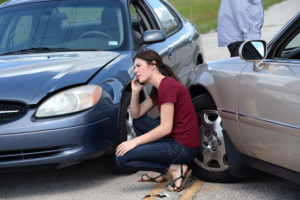 MOVE YOUR CAR
If anyone is inured, do not move them and do not move your car. Keep your seatbelt on and call emergency services right away. Turn on your hazard lights to make your car more visible to oncoming traffic. If there's no serious injury, you should move your car to the side of the road. Keeping cars in the middle of the road can cause additional accidents and injuries.
CALL THE POLICE
Whether an accident is a minor fender-bender or a major collision, calling the police is important. Responding officers will fill out an accident report that will be given to the DMV and can be accessed by your insurance company.
EXCHANGE INFORMATION
Make sure to ask the other driver for his name, address, phone number, insurance company, policy number and license plate number. Remember, vehicles may be borrowed or rented. Be sure that the insurance information presented to you matches the vehicle in question. If the driver's name is different from the name on the insurance paper, ask for their relationship to the insured person and take their name, address and phone number. To protect your ID, provide your correct name and insurance information but do not allow your driver's license to be photographed. Be polite to the driver and police, but don't apologize or tell others it was your fault, even if you think it was.
DOCUMENT
Jot down the description of the other car: year, make model and color. Document the exact location and how it happened. Take pictures and photograph damage to all vehicles. Write down the names of any witnesses. They might be able to help in a dispute. Here is a printable checklist that makes documenting easy. Keep this Printable accident checklist in your glove compartment in case you need it.
FILE AN ACCIDENT REPORT
In many cases, police will not respond to minor accidents with no injury involved. You should still file a state vehicle accident report.  In New York, You are required to file an accident report if you're involved in an auto accident that results in more than $1,000 damage to one person's property including your own. All drivers involved must file their own report within 10 days of the accident. If a person is injured or killed, it is required by the NY State Vehicle and Traffic Law to immediately notify the police. It is a crime to leave the scene of an accident. Click on this link to download a New York Report of Motor Vehicle Accident (pdf)
NOTIFY YOUR INSURANCE
Start the claims process as soon as possible. Contact us first. Some people might feel overwhelmed by this part, but you don't have to be overwhelmed by the insurance process. We will walk you through the claims process and contact your insurance company for you. There is a good chance we are affiliated with them since we are a direct repair shop for most major companies.
If you have any questions about our products or services, feel free to contact us!