Why waterborne is better than solvent-based paint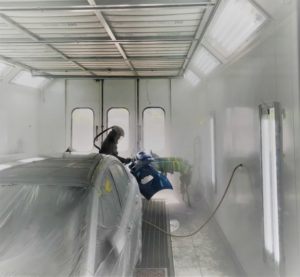 Did you know that at Yorktown Auto Body we use green paint? We're not talking about painting your car green, although if you want to have a green-colored car, that's your choice and we'll do it! We're actually talking about environmentally green paint.
In recent years, research has shown that the solvent-based spray paints commonly used by many car repair shops (but not by us) have high levels of volatile organic compounds (VOCs). Generally, that strong smell you notice from common spray paint is a bad sign. Fumes given off by oil-based paints can release dangerous organic compounds.
VOC EFFECTS INCLUDE:
Irritation of eyes, nose and throat
Headaches and dizziness
Liver, kidney and central nervous system damage
Possible cancer
We care about our employees who work with paint daily. We also care about the environment and using quality products. That's why we use Glasurit waterborne paint. It's a water-based line that emits less VOC and CO2. That means our workers in the body shop are less exposed to harmful fumes.
The German technology behind the waterborne line that has been around for more than 20 years is not only a healthier choice, it's also highly sustainable. Glasurit creates better paint coverage on its first application thanks to the high-hiding power of basecoats. Less material means conserving resources and saving money. We pass that cost-saving on to our customers. Interestingly, water-based paint also comes out cleaner and brighter than solvent-based, and to top it all off, the Glasurit line includes extremely fast-drying clear coats (2 hours vs. 6) which save energy.
5 REASONS WATERBORNE IS BETTER THAN SOLVENT-BASED:
Healthier for employees
Better for the environment
Less product needed
Brighter than solvent-based
Quicker drying time
If you have any questions about our products or services, feel free to contact us!