Yorktown Auto Body Spotlight: Steve Bhawanidin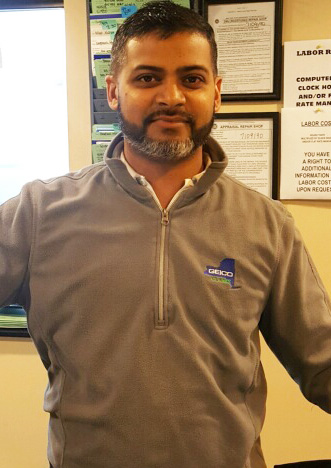 This time, we're shining the spotlight on Yorktown's manager, Steve Bhawanidin. As the shop's manager, Steve is crucial to Yorktown's success. Every day, he makes sure things are running smoothly, clients are happy and employees have everything they need for doing their best work.
Steve has worked at Yorktown since 2005 when he joined the team as the parts manager. He then became a writer and then our shop manager. Before he came to Yorktown, Steve had been working at our sister shop in Queens – All-N-All Automotive.
"Seeing the customers' faces after their repairs are done is one of my favorite parts of the job," Steve says. "I like seeing them happy with the nice repairs we do here."  Another perk to the job is his great group of co-workers, which he says are easy for him to get along with. "We're close like family because we all work hard and spend a lot of time together," he notes.
Steve works full days and commutes in from Queens, so when he's not at work what he wants to do the most is spend time at home with his wife of 9 years and their 4-year-old little boy.
Thank you, Steve, for your hard work. Yorktown Auto Body appreciates you!